What some of our customers have to say about us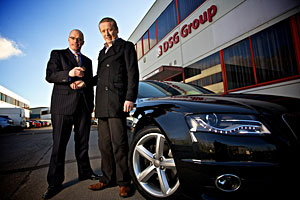 We pride ourselves in putting you, the customer first, in everything that we do. Our ability to provide excellent customer service is central to our working day and has awarded us over 3,000 happy customers.
Not only do we provide a Nationwide Service but as we are based in Stockport, Manchester, we are proud to be able to provide additional support to local businesses in the North West.
We have shared some testimonials here for you to read from both personal users and businesses.
What some of our personal drivers had to say...
Darren Garnham - VW Golf Cabriolet
Hi Michelle/Ed, Just thought I'd let you both know, car turned up today, all fine, VERY pleased with it. Thank you both for all your help - Phil, thanks very much for your patience. Regards, Darren
Alan Mayers - KIA Sportage
"Just a quick note to say thank you for all your help in changing the car; I am very pleased with the vehicle (great colour Ed, you were right). The deal has clearly worked out very well for me but I know you had to put hard work in to resolving the issue at the time and I appreciate that. This was the second time using DSG and you should know that your service standards are excellent and well worthy of recommendation. A friendly, helpful yet professional service is a standard I wish all would attain. Once again thank you and I wish you all the very best. "
John - Nissan Qashqai Tekna
"Hi, I just wanted to drop you and the DSG team an email to pass on my praise and thanks for making the purchase of my new Qashqai such a pleasant and pain free experience. After visiting several of my local dealers (for various makes and models) an being told that I would have to wait ages for a new vehicle and couldn't meet my spec for the budget, a simple online search brought me to your website. Once there I completed your simple online form and search and you phoned me the next day and within a month I have the car I wanted within my budget. Now that would have been good enough in itself, but you and Jo walked me through the PCP process every step of the way and the service I received, I can honestly say was the best I have received from any service provider in any sector, absolutely the best! Thank you all at DSG you have made me and my family happy, we love our new car and I have no doubt where I will be going when it is time to order a new one, whatever the make and model. Keep up the excellent work and thank you!"
Mark Lanyon - Skoda Octavia
"I bought a Skoda Octavia through DSG because Honest John of the Daily Telegraph recommended it. I was initially wary that it would be populated by spivs and it would all be a horrible experience. On the contrary, it was actually delightful. Having obtained a (dead easy) quote online, I then checked other websites and found them a much more taxing experience such that I gave up. They seemed to be more expensive anyway. I ordered a car with a non-metallic colour and leather so that I reckoned it would have to be built for me (it was) rather than picked out of some field in Kent. Having waited ages to get a build date from Skoda, it took a while (popular car and very good VAT-free deals) to get the car and I slightly wish that DSG had kept me a bit more in the loop. But they delivered it to the door in perfect order with all the paperwork and I have no real complaints. I'll do it again in 3 years' time probably. Mark"
Gareth Jones - VW Golf
"I would like to put on record my thanks for the support you gave me during my search for a new car. As if it wasn't stressful enough preparing for life with a new baby on the way I had to come to terms with sacrificing my RX8 that I had enjoyed so much for 3 years! Thankfully you were persistent enough to keep plugging away providing quotes until you managed to unearth that little gem of a deal for me and I would like to express my gratitude for the smooth transaction. Your service was excellent and I wouldn't hesitate to recommend you to anyone searching for a new vehicle in the future. See you again in two years when I'm up for renewal!"
Matthew Brailsford - VW Golf 2.0 GT Tdi
"Wow, what a deal. Thank you so much for providing me with an excellent service, great car and great deal. I placed my order to contract hire a pre-registered car, with 3 months? notice for delivery. All the paperwork was signed and a day for delivered penciled into my diary. One week before delivery DSG not only confirmed the delivery date, but also improved the deal by offering to supply a brand new car, all at the same price. WHAT A DEAL. Nice people to do business with would recommend them to anyone wanting to contract hire. Thanks again DSG."
Derek Riley - Mercedes E-Class
"The service I received from DSG when ordering my Mercedes E Class was excellent. Everything was done on time and the car, delivered to my work address, was there by 8.00am on the day stated. Highly recommended."
Mary-Claire Curran - VW Golf
"I have been delighted with the service from DSG Autos. They managed to undercut all the VW dealers that I had spoken to, and delivered a brand new car exactly when they promised. They even reduced my payments once we had agreed the terms, as the residual values had been reassessed. I was very impressed that they passed that saving onto me. I would certainly use them again - the staff I spoke to have been very helpful answering my queries and it took all the hassle away from purchasing a car."
Stephen Maher - Mitsubishi Outlander
"As a self-employed professional I was a bit wary of taking on a lease hire but DSG Auto were fantastic. They gave me all the advice and options I needed to make the right decision. The paperwork was completed quickly and the vehicle delivered on time to my address with no hassle and no fuss. I particularly enjoyed the peace of mind that comes with taking out a service package and would not hesitate to use them again. A thoroughly professional service. Well done."
Gary Lynn - Nissan Qashqai
" To Phil, I have asked for your email address to specifically comment on the level of service I received from your company over the past 6 weeks. Ed Bedford, contacted me after an initial search I conducted into taking out a car lease. Not only did he better a competitors price (Nationwide Vehicle Leasing) but he has looked after every business requirement along the way. After being left with just one week to obtain delivery of my vehicle he has stepped in to organise a Saturday delivery to ensure it is with me in time and kept me informed along the way. In short I believe he has been a great sales and customer service ambassador for your company. Two roles which, in the past, have proven to be incompatible on most occasions for a lot of companies. Great customer service. Outstanding sales determination and drive. I will definitely recommend your company on every occasion. ."
What some of our business customers had to say...
David Horsefield - Nissan Qashqai
"Just wanted to say a huge thank you to everyone at DSG. We have been contract hiring cars for over 15 years now and I have never been so impressed with a company. After getting let down by another company DSG managed to source and arrange collection of a vehicle all within a week! Not only that but it was the vehicle and spec that we had wanted! Phil was always true to his word, this as I have found out to my cost is not true of a lot of people in the industry! I would have no problem in highly recommending DSG and will no doubt be using you in the future. Once again thank you so much from everyone at Allweather Windows."
Ed Parry & Afua Richardson Parry - Nissan QashQai +2 and Honda Accord
"We received our MPV this morning as expected. We would like to thank you and your team at DSG Auto Contracts for the exceptional service that you have offered from order to delivery of our MPV. In addition we have been very impressed by the customer support, the patience and perseverance that your company has demonstrated during this process. We are happy with the cars you have sourced to our household so far and we look forward to doing further business with you in future."
Then a second testimonial;
We would like to thank Phil, Jo and the team for delivering our Qashqai+2 on time- we are happy with our 7 seater once again! You have yet again delivered a professional service, keeping a sustained focus on delivering our car to us even though the process was challenging at times. Thank you for organising the collecting of our old car to delivering the new one and sorting out the financing and all the other parts of the process so well! Look forward to coming back to do business with DSG Auto Contracts again for a third time!
Ricky Keating - Volkswagen Caddy 1.9 TDI
"The van is perfect thank you. I am so glad that you recommended the Caddy over the Kangoo which I was originally looking at, it is so much better and much nicer to drive. The delivery went very smoothly, the driver was nice and went through everything. I hope that it is not 4 years till I need another van as I plan to expand in the near future, towards the end of next year in fact. I am so happy with your service and the way that you helped me out in my hour of need, that I need not look anywhere else in the future for my vehicle requirements. Take care and thank you."
Darlene Crossley - SAAB 9-3 and Volkswagen Sharan
"I have had excellent customer service from DSG Auto. They have provided quickly with very competitive quotes on 2 vehicles and worked very hard to satisfy our delivery requirements. We aimed to sell our existing vehicles through private sales but DSG helped us to locate buyers for our vehicles and were very knowledgeable and forthcoming with information to help us.

"I would recommend DSG as a leasing company; many leasing companies I have dealt with in the past are very impersonal and non-responsive to customer requirements. DSG are great in both these areas."
Carl Barratt - Two VW Golf TDI's and a Peugeot Partner
"I am the purchasing manager for our company and we have a small fleet of vehicles, we have always used DSG as we have found them extremely efficient and most important very vigorous in providing a very competitive quote. We recently acquired the need for an additional commercial vehicle which DSG provided both the best deal and the fastest lead time, they gave us several options and we eventually went for a small Peugeot Partner which provided for all my needs. We cannot recommend them highly enough and know that we will always receive excellent service and competitive prices."