Helping you choose the right finance package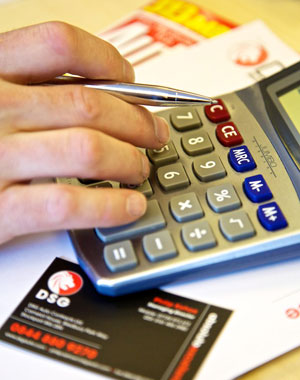 Once you have decided on the type of new or used car or van, the next important decision is which finance package suits your personal or business needs.
At DSG Auto Contracts we understand that this can be daunting not to mention time consuming. We are committed to helping you understand the many car leasing and contract hire options available to you whether you are researching the best solution for a larger fleet, small business, for personal use or as a company car driver. As we are committed to our Best Price First Time policy you can be reassured that you will be provided with the most competitive car and van contract hire and leasing deals.
Our team will offer you advice on the most tax efficient ways to finance your new vehicle(s). Whilst we take care to ensure that our team are suitably qualified to discuss business agreements, we would suggest that you share the recommendation with your accountant who understands your business needs more intimately.
How much information do you or your business need? - It's up to you
Take a quick glance at each of the car and van leasing, finance and contract hire methods with the summaries below. However, if you wish to understand more about the individual financial options, then simply click on the PDF icon at the end of each of the summaries and read or download our comprehensive overview. We have included a comparison checklist of all funding methods on each of the PDF downloads for your convenience.
Helping you to understand our finance options
---
The information provided is for guidance only. We recommend that you seek professional advice from your accountant and tax office before making a decision based on the information given.
Inland Revenue has a guide to personal and company taxation which may be helpful to you.
DSG Auto contracts accepts no legal liability for the information given as it has been provided for illustration only and it is your responsibility to check the validity of this with the relevant authorities.